Porkies Music Fest return planned for 2022
Photo by David Braithwaite
GREETINGS PORCUPINES! We are very happy to report that the Porcupine Mountains Music Festival, presented by the Friends of the Porkies, is scheduled to return August 26 & 27, 2022…and we can't wait to see your smiling faces again! You will notice some changes have been made with the best interests of the audience experience and festival longevity in our sights. It is important for us to return strong, refreshed and ready for the demand that we know will exist for live music upon our return. We are excited about the future and have been busy, so please check out our fresh, updated website www.porkiesfestival.org.
ADVANCE TICKETS ON SALE NOW! Advance 2-day passes cost $80 and are on sale now through June 30, 2022. At this time tickets can only be ordered through our website, or by mail. If you purchased your ticket(s) for 2020's cancelled event, you do not need to do anything. Replacement ticket(s) will be sent to your address on record with us. NOTE: If your address has changed, or for more info regarding tickets go to https://porkiesfestival.org/tickets/.
IMPORTANT CAMPING/LODGING INFO: Over the past 2 years during the pandemic, this area has been "discovered" by many and the recreational tourism demand for camping reservations and lodging is in high demand. It is recommended you secure your reservations as soon as possible, do not delay. The Porcupine Mountains Wilderness State Park opens reservations for its campsites 6 months (to the day) in advance…if you wish to camp in the State Park, secure your reservations 6 months in advance of the date you wish to be arriving! For more information on State Park camping and to make your reservations, visit https://midnrreservations.com/. For hotel/motel lodging information call your favorite place ASAP, visit porcupinemountains.com or call the Porcupine Mountains Convention & Visitors Bureau at 906-884-2047.
RECREATION PASSPORT NOW REQUIRED FOR PARK ENTRY: The Recreation Passport (replacing the former State Parks sticker) is required for vehicle entry into state parks and recreation areas, state boat launches, state forest campgrounds and state trail parking lots. For cost and more info visit https://www.michigan.gov/dnr/.
COVID-19 PROTOCOLS: The festival is subject to changing COVID-19 protocols and regulations. At this time there are no outdoor gathering attendance limits in the State Park, or any special COVID-19 restrictions or mandates in place. The venue is mainly outdoors and is spacious with a limited number of tickets being sold. As this is an evolving situation, be aware that masking may be required to enter indoor chalet spaces. Any updates or changes will be posted on our website and social media sites.
A FEW OTHER ITEMS OF NOTE: We will be running the same time schedule both Friday and Saturday of the Festival, with the gates opening at 11:30 AM each day and running until 10:00 PM. The Children's Area will be operating both days of the festival with schedule TBD. In the event of inclement weather, we will no longer be attempting to move the stage inside the Chalet. If the weather turns bad, we will carry on to the best of our ability, unless it becomes unsafe to do so. Booking is ongoing and we will announce the schedule here and on the website ASAP, so watch for that! We are not accepting artist submissions at this time, thank you for your understanding.
THANK YOU for your support over the years, and for your support and encouragement during these past 2 challenging years of downtime. We hope that you are well, and that you enjoy the new website. We will be counting the days until we meet again, to listen to great music in the Porcupine Mountains Wilderness State Park, and to dance with joy, truly…JOY! JOY! JOY!  
This activity is supported by the Michigan Council for Arts and Cultural Affairs.
https://www.michiganbusiness.org/arts/
---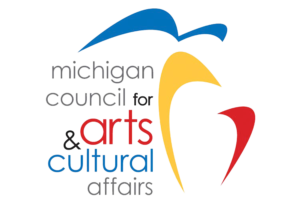 Friends of the Porkies receive grant funding from MCACA
The Friends of the Porkies have been awarded a grant of $24,000 from the State of Michigan Council for Arts and Cultural Affairs (MCACA) for the Porcupine Mountains Music Festival scheduled for August 26 & 27, 2022. The grant was awarded through the MCACA peer review process and was one of 594 applications to compete for MCACA fiscal year 2022 funding.
Organizations receiving a MCACA grant award are required to match those funds with other public and private dollars. Local support of the project includes festival sponsors and program guide advertisers, along with private donations. The music festival also receives significant volunteer support from the community. A small core group of individuals volunteer year-round in the planning stages, and during the event over one hundred volunteers are utilized.
The Porcupine Mountains Music Festival presented by The Friends of the Porkies, is held at the Porcupine Mountains Wilderness State Park's Winter Sports Complex. The festival celebrated its 15 year Anniversary in 2019 and has been on hiatus since that time, due to COVID-19 considerations. Ontonagon County, being a geographically remote and underserved region, benefits from this multi-genre festival that brings to the area a diverse lineup of regional, national, and international acts.
The MCACA peer review process allows for each grant application to be competitively considered by a panel of in-state and out-of-state arts and culture professionals. This ensures the taxpayers, who support this project through legislative appropriations, and all other visitors or residents in Michigan will have access to the highest quality arts and cultural experiences.
A complete list of grant awards around the state is available by contacting MCACA at (517) 241-4011, or by visiting the MCACA website michigan.gov/arts.